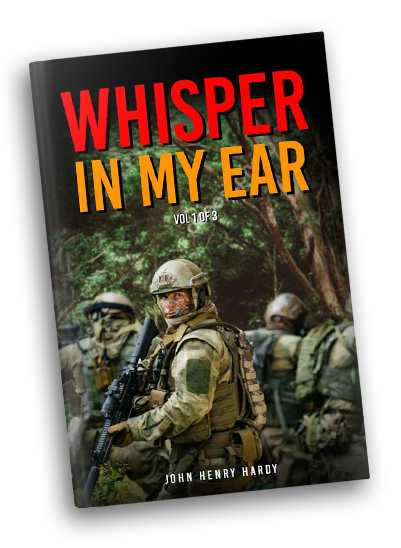 Amazon's customer review...
(5) Star



Brilliant! Phenomenal read
(5) Star

Great book!
Really enjoyed reading this book. I am already reading volume two.
(5) Star



Terrific story
Excellent story, and very educational about military life in the Vietnam era.
(5) Star



I sincerely enjoy a good story
I have read all three volumes. I sincerely enjoy a good story, in particular where the author keeps my attention and I am looking to turn the page. The characters were well developed and the story flowed well. Great job. I thoroughly enjoyed all three!!!
Three young Americans, haunted and buoyed by family legacies, meet during the Vietnam War in this debut historical novel. In the 1960s, Dion Murphy is a star middle linebacker descended from a long line of soldiers dating back to the Civil War. He desperately wants to live up to their accomplishments and the family's reputation for honor, so he stays at Bryant Military Academy, where his relatives went, even after he's accepted into the considerably more prestigious West Point; later, he turns down a chance at a pro football career to serve in the Marines during the Vietnam War. Cathy Addison has the soul of a caregiver, much like her courageous, compassionate ancestor, who was murdered by Native Americans. Like Dion, she's also attached to the virtue of honor; as a result, she attempts to remain true to her fiance, despite his boorish behavior. She becomes a nurse in the Navy medical corps and gets deployed to Vietnam. Norman Coddington is born to a prominent family in Boston but suffers due to a chillingly cold mother and absentee father. He wrestles with existential angst, which expresses itself as a reckless embrace of risk, which led him to Vietnam. All three characters encounter, in one way or another, the savage lessons of war and are transformed by them. At one point, for example, Norman reflects on his dreams of war glory: "Yet now those fantasies meant little in the face of the harsh realities of combat, and he'd become aware that he was a foolish lad when he'd spawned those ideals." Overall, this novel is first and foremost a tale about grappling with one's ineluctable past. Hardy masterfully depicts how the weight of family history can accumulate over successive generations, and how such a legacy can be either a guiding compass or an oppressive yoke. He also deftly captures the barbarous reality of war. The three characters' stories ultimately intersect, but only very late in the novel, so each plot maintains its own autonomous life. This is a long book, though, at more than 750 pages, due in part to the author's liberal expansion of side plots. Also, readers may find that Cathy's naïveté when it comes to her suitors defies credulity. A sensitively rendered story about the impact of the past on the future, and about the morally clarifying effects of war.
Whisper in My Ear (Vol. 1 of III)By: John Henry Hardy
Publisher: CreateSpace Publication
Date: July 2015
ISBN: 978-1-5075-5271-1
Reviewed by: Amy Lignor Review
Date: February 28, 2018
In a world that now supports the men and women who serve this country, there was a time that those brave ones did not receive the respect they most definitely deserved. This is one story that puts the spotlight on this subject, drawing readers in with everything from its incredible scenery to its powerful plots and even more intriguing characters.
This story wraps around a trio of different personalities that come from very different worlds. The first we meet is Dion Murphy; he is about to become a college football hero. What Dion always wanted was to follow the rest of the males in his family and enter West Point. You see, the "Murphy" name appeared on every muster role of every war dating back to the American Revolution. Trouble is, he got turned down by West Point (a couple of times) and made a vow to his football coach at his current school, The Bryant Military Academy in Dallas, that he would give up the need to go to the Point and stay with the school and the football team. His oath means everything to him. One day, however, he finally gets accepted to the Point and decides not to go because of that oath. We learn all about his background, growing up and fishing in the swamplands…even the 'attack' by a creature of Mother Nature that took away his most precious mentor.
Next we meet up with a young woman by the name of Cathy Addison who is at the end of a harsh Minnesota winter. Cathy is about to graduate, which she is definitely happy about, but she has also gone through a horrific time with a man named Jeffrey who she loved and thought was the man of her dreams; a man who turned out to be nothing more than a cad. We learn about her background and that she, too, comes from a long line of people who served, even during the well-known battle at Gettysburg. She has a gift for helping the sick and the injured. Cathy is all about compassion, which will serve her well. It's too bad that the person she loved most had no need for compassion whatsoever.
The last of the trio comes into play when we are introduced to Major Norman Coddington. He is a man who fights in the air. He is also a bit of a playboy who likes to fly fast and take chances. Currently in Puerto Rico, his backstory unfolds and we learn of his father, the law firm Norman was supposed to work in, and the fact that he is from quite a wealthy Boston family that, unfortunately, has far more love for their bank accounts and other financial assets than they do for each other.
Vietnam is on the near horizon, and these three people will be followed by readers as they go through glory, pain, and dangers that await them. They will each use the experiences during their early lives to help them survive and deal with this new war zone. The author will let us understand why Dion feels as if Old Glory is an old friend. We'll watch young Cathy become Lieutenant Cathy Addison, RN, and see her journey through life place her directly in Dion's path. We will race through the skies with Norman and, most importantly, we will root for them all.
The only thing that's upsetting about this book is where it ends: you will want more. This is a highly powerful story with characters you love, and a few that you literally cannot stand. Because there are two more volumes to come, which are sure to be of the highest caliber, jumping aboard this train now is a must. The author is not only deserving of respect when it comes to his own years of service, but he deserves double for taking the time to write this unforgettable book.
Quill says: You will enjoy this immensely and perhaps learn a thing or two along the way.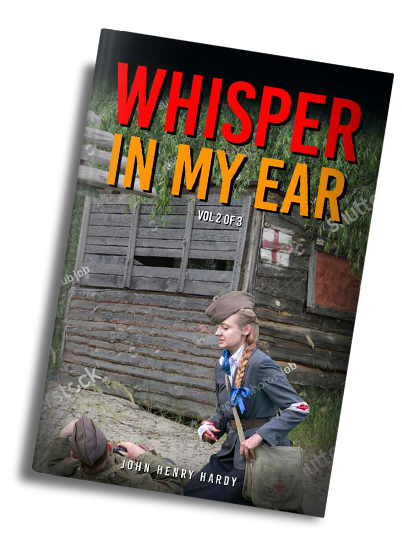 Amazon's customer review...
(5) Star



A must read for everyone!
Best series I've ever read! John brings history to life and you don't want to put it down once you start reading it. By far the best books I've ever read. They kept me interested and wanting to read more. I would definately recommend books from this author and I am anxiously waiting to buy whatever he has in the works next. Absolutely buy this series. They're an asset to anyone's collection, from the first time buyer to the avid collector. These are an absolute must read for any history buff or anyone wanting to know what really went on in the Vietnam War. And for those non-history readers, the romantic story alone will keep you intrigued. The "Whisper in my Ear" series by Mr. Hardy is a must read and a must buy full of research of actual events that had to of take many many years of work. Well done!
This second novel in a trilogy follows three Americans wrestling with the horror of the Vietnam War. Norman Coddington, an ace fighter pilot in Vietnam, falls deeply in love with a Filipina nurse, Barbara Mandera. He struggles to fully give his heart to her, filled with fear of both commitment and rejection. He also knows his cold mother will never accept a daughter-in-law who isn't white, and marrying Barbara might jeopardize his considerable inheritance.
Barbara has anxieties of her own: born into an impoverished family, she was a prostitute and a sex slave before fleeing a sadistic American husband to attend nursing school. She changed her name, and told Norman she comes from a respectable middle-class family, but her murderous ex-husband is intent on tracking her down. Cathy Addison, Barbara's best friend and fellow nurse, is also endangered by this relentless predator. Cathy's grim experiences as a combat nurse provide some of the more realistic glimpses into the gritty ravages of war, and the heavy emotional toll such a relentless spectacle exacts. Cathy is engaged to Dion Murphy, a lieutenant in the Marines, who has disappeared and is hunted by a prolific enemy sniper, Ngu Gin. Meanwhile, one of Dion's best soldiers, Pvt. First Class Randy Peterson, inadvertently reveals sensitive data to an enemy agent disguised as a prostitute.
While some information from the first volume is revisited here, this novel is best read as a sequel to its predecessor, rather than a stand-alone story. Hardy (Whisper In My Ear, 2015, etc.) deftly plumbs the darker aspects of war, shorn of romanticizing sentimentality. And this second volume allows him ample opportunity to layer the three main characters—Dion, Cathy, and Norm—with even greater depth. The writing can be haltingly earnest, especially when juxtaposed with such unflinchingly realistic depictions of violence. In anger, Norm thinks to himself: "Those bastards are trying to kill the only woman I ever loved and the dozens of other caregivers who work there, not to mention the sick and wounded, and they may have already murdered Dan too!" Additionally, like the first volume, this book is needlessly long, and the multiple subplots, developed too slowly, will likely weary the reader. But for those who enjoyed the first installment, there's still plenty of riveting action here, and an artful reprisal of the principals.
Reviewed by: Amy Lignor
Date: March 24, 2018
When this series first began in a very powerful Volume I, we met up with three very different people with very different backgrounds. We dove into the world of one young man whose family (especially his mother) was all about wealth, status and making sure you kept your chin "higher," so to speak, than anyone else in town. Another was not about money. In fact, he grew up in the swamplands and had a true tragedy in his past. After becoming a college football hero, he moved on to become a hero in Vietnam. The third is a female; an emotional girl who strives to love, led, and aid others. The one thing this trio does have in common, however, is their penchant for loyalty.
Readers watched the Bostonian fly the skies over Vietnam and defend; the college football hero learn to survive in a war zone; and the young girl blossom into a woman with a broken heart but a sense of belief and hope that life was going to get better.
Then…we open on this, Volume II, and the action begins on page one. Sitting in a highly quiet alert room trailer on Da Nang Airfield with Norman Coddington, we can almost hear the sound of the clock ticking and the men snoring as they wait and see if the VC will attack. The enemy are skilled night fighters and the skin almost crawls while wondering when the sounds of violence are going to begin. Norman is thinking about the woman who has tripped him up and stolen his heart; a Filipina nurse named Barbara that his pristine Bostonian family will most certainly abhor, bringing his mother's threats to disinherit him closer to becoming a reality. This once happy-go-lucky playboy knows Barbara will never be accepted by his dysfunctional clan based on skin color, alone. Of course, Barbara knows that if his family also knew the truth – that she came from a background so poor that she ended up in the world of prostitution before escaping from a sadistic husband – they would literally be sent over the edge. She is in love with Norman…but she also has to deal with the fact that a murderous ex will not stop trying to find her until he has her by the throat.
Cathy Addison RN, the woman who readers fell in love with the first time around, is Barbara's best friend. They have a lot in common, particularly that they both work as nurses and have stalkers who are intent on taking them out. Engaged now to Dion Murphy (the young college hero), Cathy is dealing with another huge emotional smack-in-the-face now that Dion has disappeared and is being hunted by an enemy sniper by the name of Ngu Gin. When one of Dion's soldiers reveals information to an enemy agent by mistake, an enemy who was disguised as a prostitute at the time, an all-out hunter versus prey plot takes over. But what will eventually occur will send Cathy into the darkest areas of both war and life that can possibly be imagined.
If wondering whether or not this incredible sequel is a stand-alone story, the answer is no. Yes, the action and war tales are fantastic and would get any reader involved instantly, but the story packs way more of a punch when the reader has already followed this trio through the first book. This is war…this is violence and pain told in the most realistic of ways. This is love, emotion, life, dealing with bigotry, money, the upsides and downsides of what you are born with, who you are born to, and the life you are "instructed" to lead. No stone is left unturned here, and if possible, this second installment is even better than the one that started it all.
Quill Says: Clear the bookshelf in order to put this series in a place of honor, and…Bring on the Grand Finale!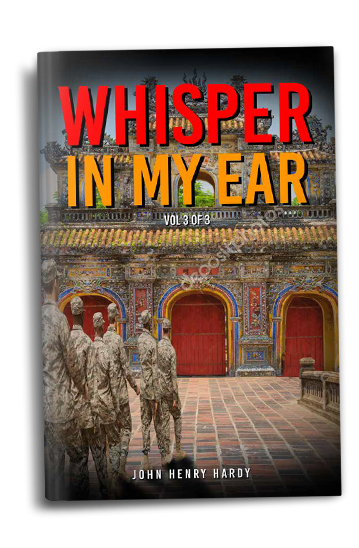 Amazon's customer review...
(5) Star



Five Star!
I highly recommend thsee books by John Henry Hardy!!!! 10 out of 5 stars!! They're really that good!!!!!!!! Hoorah!!!!
(5) Star



A great read!
Excellent book.
This concluding novel in a trilogy examines three American lives that intersect during the Vietnam War.
Cathy Addison, a nurse stationed in Vietnam, is brutally beaten by a psychopath, Ray Slaugh, who was stalking her best friend and colleague, Barbara Mandera. Dion Murphy, Cathy's boyfriend, enraged when he discovers what happened, tracks down Ray and kills him in self-defense.
Soon after, Cathy shows up (its unclear how she too found Ray when the military could not), and shoots his corpse in a fugue like fit of fury. Dion, a Marine lieutenant, enlists the help of a first sergeant to doctor the scene of the shooting, but military investigators figure out that he and Cathy are likely responsible, and prepare to prosecute both.
Meanwhile, Cathy resigns her post and returns to Minnesota, pulverized by distress, especially after she learns she is pregnant. Dion travels back to the United States to pledge his loyalty to her and marry her, and to stand by her side when they inevitably face trial. Meanwhile, Norman Coddington, a fighter pilot, finally learns that his girlfriend, Barbara, lied about her past–she was once a prostitute and sex slave, and hails from inauspicious beginnings. Norm leaves her, and Barbara, extremely distraught, attempts suicide.
Shortly after, Norm is shot down flying over North Vietnam and captured, and the appalling ordeal forces him to reconsider his judgment of Barbara. The harrowing account of Norm's treatment in captivity by the enemy continues the series' commitment to a realistic, if often gruesome, portrayal of war.
Reviewed by: Amy Lignor
Date: April 9, 2018
All obsessed readers (and even those not so obsessed) can always come together and agree on one thing: There are characters in the literary world who are truly unforgettable. And when it comes to those who have read this amazing series from the very beginning, they have already concluded that some of those unforgettable characters have come from these particularly emotional, heart-wrenching, action-packed, suspenseful pages. This is Volume III, the conclusion that author John Henry Hardy has provided, and one he certainly should be proud to call his own.
When we began these books, we met the three main characters and watched them grow. One grew from a playboy into a man who loves with all his heart. One went from a small town boy filled with pride for his country to a grown man whose loyalty grew, although his eyes saw things in Vietnam that broke his soul and caused him to become a killer. Lastly, we watched a young Minnesota girl grow while working above-and-beyond to aid the soldiers in Vietnam by becoming an RN and a Lieutenant. A woman who ended up being personally harmed by a man who was not focusing on her to be his ultimate victim.
Cathy Addison is that woman, and she now has to deal with the pain of being brutally harmed by a psycho who was actually stalking her colleague and very best friend by the name of Barbara Mandera. Although Cathy now feels completely alone, her fiancé (the small town boy named Dion) feels even more so. Upon waking up in the hospital after taking down a devious enemy by the name of Nin Thu, he is wondering why on earth Cathy hasn't been in to see him. It's as if she disappeared overnight. However, when he finds out about the crime that has occurred, he ends up tracking down and burying the psycho while fighting for his own life.
In a frightening turn of events, Cathy comes upon the murdered man and, not knowing he is already with The Reaper in the fiery place he most definitely belongs, shoots the corpse. Believing that she has become a cold-blooded murderer, Cathy's mental state disintegrates even more. Resigning her post in Vietnam, Cathy runs home to Minnesota. Not only will she have to deal with the memories of her attacker and the belief that she is a killer, but she is also up against a criminal trial while attempting to deal with a "little something" that came from her Vietnam nightmare. Norm (the one-time playboy), has news of his true love, Barbara, unveiled to him. Norm is the son of a truly rich family with chins in the air; he has a mother who will quite literally stop Norm from receiving any money if she ever hears about, let alone meets Barbara. Although Norm was set to go against the "family" demands, once he finds out Barbara's wealth of lies and cover-ups, he leaves her. But when Norm finds himself in true enemy territory after being shot down, he begins to rethink his personal views on many things, most especially his harsh judgment of the woman he still desperately loves.
These characters all come together. As Dion pledges his loyalty and fights to regain the woman who no longer owns the same "pure heart" she once had, Norm – a man who has gone through the ultimate horrors of torture – attempts to right his life and, hopefully, find the happiness he has always wanted. Readers will cringe at the very vivid prisoner-of-war descriptions when it comes to Norm. But, like the first two volumes, they will also be able to witness the good and cheer for the people who strive to do their jobs while growing, learning, fighting…and, perhaps, finally achieving the best life has to offer. Quill says: After this incredible journey it's difficult to say John Henry Hardy could top it, but fans cannot wait to see him try!